According to Tencent's unaudited financial results, in the first quarter of 2022, WeChat monthly active users reached 1.2883 billion, a year-on-year increase of 3.8%, and the number of WeChat mini-programs daily active users exceeded 500 million. WeChat's official account is a relatively closed platform with limited exposure compared to other social media platforms. The number of Official accounts is rising (according to the latest statistics, there are 20 million active WeChat Official Accounts), and advertising costs have been increasing yearly.
Source: Statista
B2B and B2C companies looking for WeChat Official Accounts marketing have different needs: while the latest pays more attention to online customer experience and purchase conversion (repurchase, membership, retention, etc.), B2B companies pay more attention to identifying sales leads, branding, and CRM synchronization.
For B2B companies, acquiring new leads, communicating with partners, and engaging with existing customers are the top priorities. The official account needs to maintain continuous, high-quality content output not just in the official account itself but also through the official website, SEO, media, and self-media platforms to help users continue following the company.
High-quality content and visuals are the core of B2B WeChat Official Accounts. Good content and visuals can not only be widely shared but also attract the attention of new, high-quality followers.
The importance of the content
Compared with the B2C official account, the audience of a B2B official account have more robust industry and business knowledge, originating from industry summits, offline exhibitions, activities, etc.
What you should share:
1) Brand news
2) Customer success stories
3) Industry trends
4) The latest product or service development
5) Interactive Content (you can conduct promotions and guide conversions).
In addition, industry survey data, reports, and white papers of authoritative organizations, etc., can improve the professionalism and credibility of the content.
When writing the article's content, it is essential to insert keywords (brand, industry, product, etc.) in the article title so that users can search for related content through WeChat.
The importance of graphic design
In addition to the text, the design and layout of WeChat posts are also essential. The graphic not only involves the user's reading experience but also enhances the consideration of potential customers towards the brand. The high-quality design is one of the cores of B2B public accounts. Good design can not only be widely shared but also attract the attention of new users.
Case studies
JLL Portugal
JLL Portugal offers integrated real estate solutions and expertise in the office, retail, residential, and hotels & hospitality sectors for investors, landlords, and tenants, whether companies or private individuals.
Scope:
WeChat account creation
Official WeChat account management
Original content creation
WeChat posts layout and publication
WeChat marketing strategy
KOL negotiations
ACS
ACS is the leading brand of Angelantoni Test Technologies, one of the Angelantoni Industries Group companies. With its three production plants in Italy and four foreign sales and service branches, Angelantoni Test Technologies is one of the world leaders in manufacturing simulated environmental test chambers.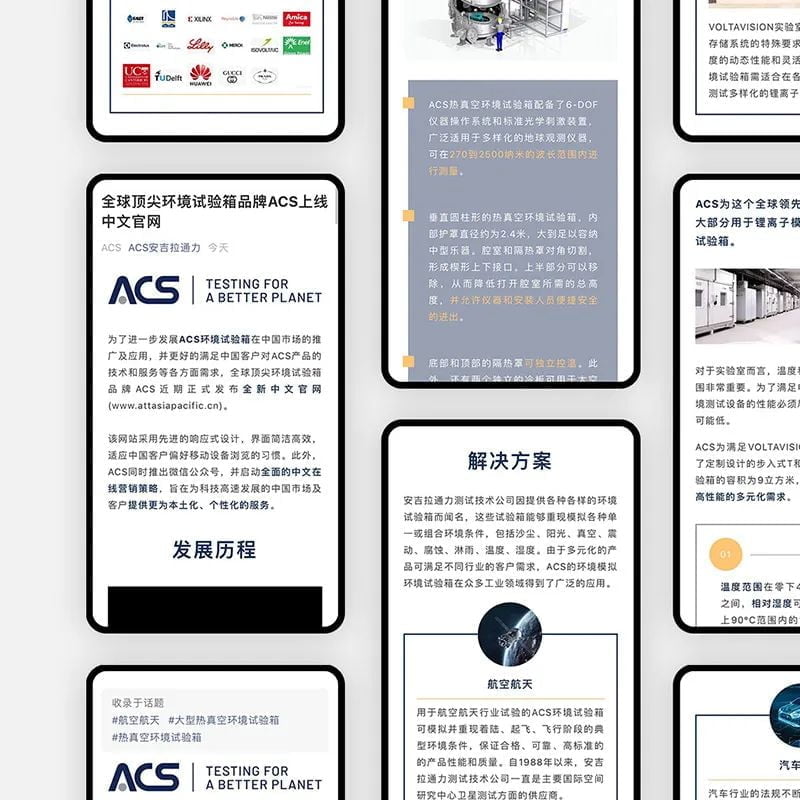 Scope:
WeChat account creation
Official WeChat account management
Content translation & localization
WeChat posts layout and publication
WeChat marketing strategy
KOL negotiations
Checkout.com
Checkout.com enables businesses and their communities to thrive in the digital economy: it delivers innovative solutions and valuable insights that help its clients improve their payments performance.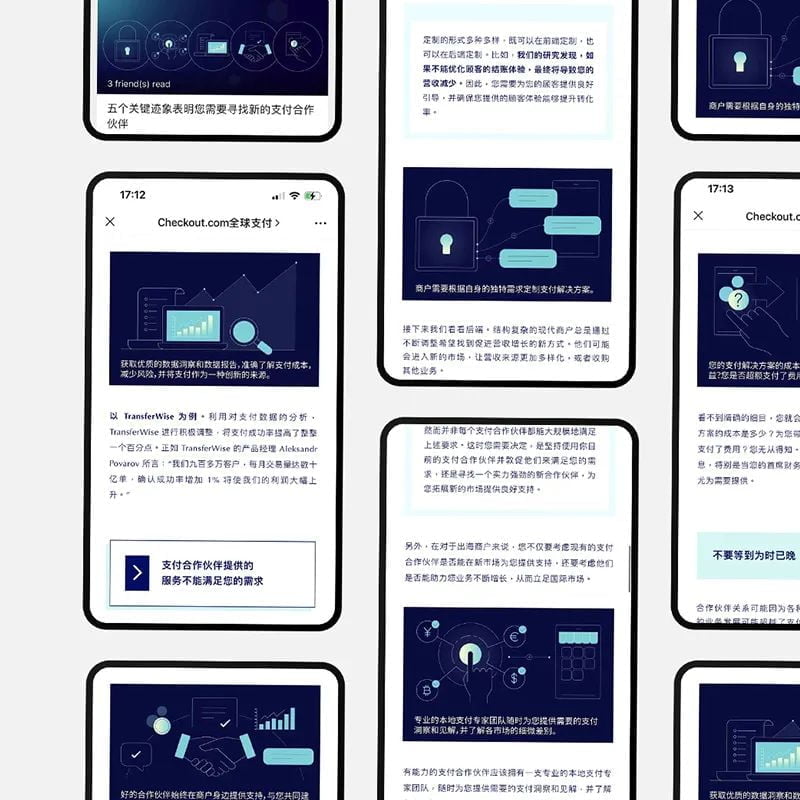 Scope:
Key visual designs
WeChat posts based on provided content
Stolt Tank Containers
Stolt Tank Containers is a global provider of logistics, maintenance, and management services for door-to-door shipment of bulk liquid chemicals and food-grade products.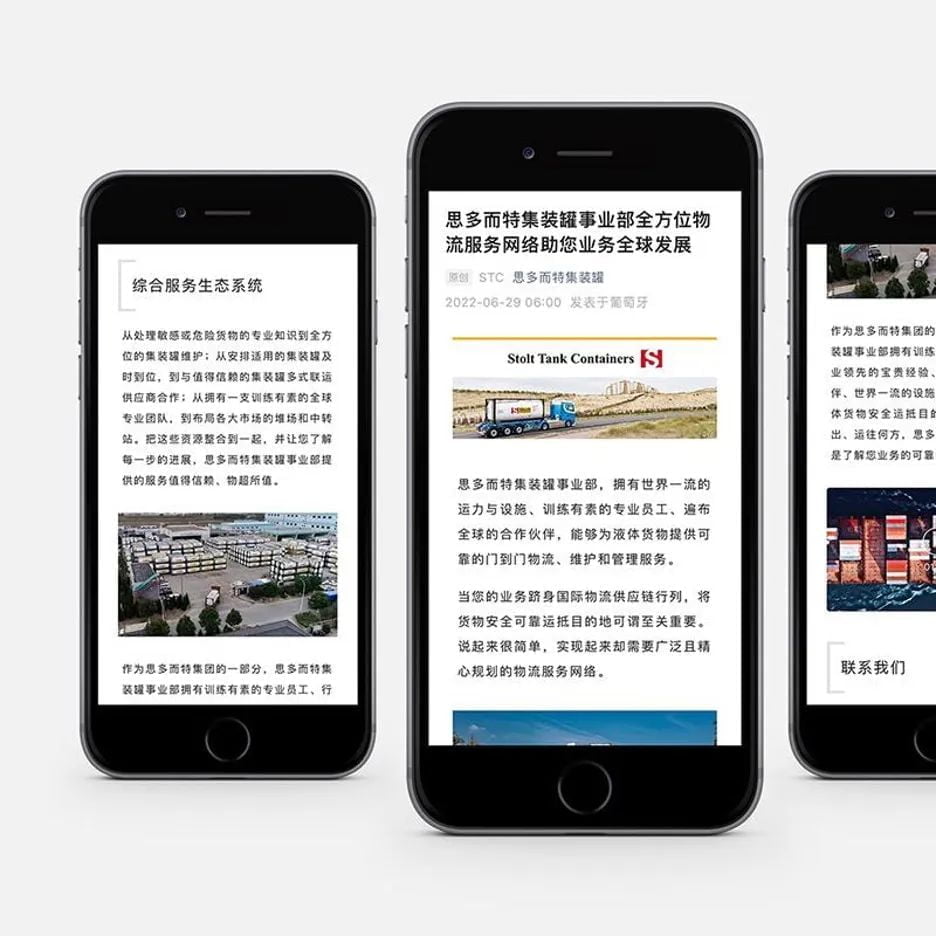 Scope:
WeChat account management
Content translation, copywriting, localization
WeChat posts design, layout, and publication
Great Content, Require Experience
Flow is a creative agency supporting organizations with their branding and digital presence in China. We create visual identities, WeChat Official Accounts, mini-programs, websites, and design marketing materials. Need help with your marketing strategy in China? Contact us for a custom quote.